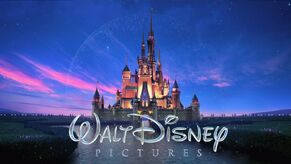 Disney (AKA. The Walt Disney Company) is the largest, most powerful animation studio in the world, currently nearly a century old (founded 1923). It is a multi-billion dollar conglomerate, having over 88 billion dollars worth of assets as of 2015.
Strider claims it to be his favourite animation studio. Strider generally claims this because of the studio's steadfest dedication to creativity, beautiful animation and the constant positive, warm spirits it attempts to portray in it's movies. Although Disney is a massive conglomerate of countless different types of media outlets, Strider normally focuses on the Disney movies and the Disney Channel.
The Worst Disney Movie
Edit
Strider seems to consider Chicken Little to be the worst Disney movie of all time. He criticized it's cruel spirit of all the characters in the movie, flabbergasted at how vindictive and uncharacteristically mean-spirited it was. He also considered the animation to look very poor quality.
The Worst Disney Channel
Edit
Strider adamantly states that the absolute worst of the Disney Channel is Hannah Montana, generally stating what a monster the singer has become. The element of how Miley Cirus was emotionally scattered and left mentally scarred by the effects of Hannah Montana is generally what Strider states as the most deplorable effects of the show.
The Best Disney Movie
Edit
Strider was emotionally gripped by Inside Out, and claims it to be his personal favourite Disney movie of all time. He particularly praised the colourful, creative animation pallette as well as the emotionally gripping scenes and likable characters. It is his most anticipated Disney sequel of all of the Disney franchise.
Ad blocker interference detected!
Wikia is a free-to-use site that makes money from advertising. We have a modified experience for viewers using ad blockers

Wikia is not accessible if you've made further modifications. Remove the custom ad blocker rule(s) and the page will load as expected.