Josh "PhantomStrider" Strider
(born 3 February, 1989) (Age: 28) is an Australian/Canadian YouTuber. Strider specializes in cartoon-related videos.
Favorite Cartoons:
Strider appears to particularly enjoy Cartoon Network and Disney XD, devoting multiple top lists to them. His favorite shows on Cartoon Network appear to be Steven Universe and Adventure Time. He appears to be an old fan of Nickelodeon's Invader Zim and Avatar: Legend of Korra. He also really enjoys doing reviews of Nickelodeon's most popular cartoon SpongeBob SquarePants. His favorite cartoon on Disney is Star vs. the Forces of Evil, he also enjoys cartoons like South Park and Futurama, his favorite Adult Swim series is Rick and Morty. He considers Inside Out to be the best Disney film.
Least Favorite Cartoons:
In his Worst Cartoons of All Time list, Strider believed that the worst cartoon of all time was the episode Ren Seeks Help from Ren and Stimpy "Adult Party Cartoon". He also seems to intensely dislike modern episodes of Family Guy. He also loathes the Nickelodeon show Breadwinners, and calls it the worst kids cartoon. He considers Food Fight the worst animated movie of all time while he considers Drawn Together: The Movie to be the worst animated sequel of all time. He considers Freddy Got Fingered as the worst movie of all time.
Personal life:
Josh is a psychology student at university. He runs obsessively in his spare time and has done 12 marathons (42km) and 3 Ultra Marathons (56km & 67km) so far. He also likes to do "let's play" videos with his brother Ben on his second channel LiveStrider. He likes to watch Disney movies whenever they come out in the cinema. His favourite fruit is bananas.
Josh worked alot of odd jobs over the years. This included pizza delivery, KFC, Subway, service station attendant, store clerk, hotel receptionist, car shuffler, dressing up as superheroes for birthday parties, and a gas station (which black marked him for being late). He also did basic training as a Signal Intelligence Officer in the Navy. He enjoys playing villains in community theater performances.
On 12/02/2017, Josh ran a Live-streamed marathon to the public in order to raise money for the American Foundation of Suicide Prevention.
He did another LiveStream on 26/09/17 to once again raise money for the AFSP. This time he did a 100% play through of Sonic Mania with his brother Raz.
Gallery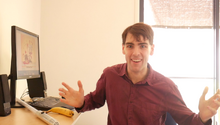 Ad blocker interference detected!
Wikia is a free-to-use site that makes money from advertising. We have a modified experience for viewers using ad blockers

Wikia is not accessible if you've made further modifications. Remove the custom ad blocker rule(s) and the page will load as expected.